Rebates and incentives by energizeCT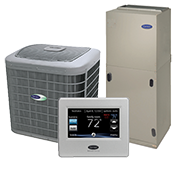 If your heating and cooling system is more than ten years old or needs to be replaced, install an ENERGY STAR® -certified system to maximize energy savings.
High-Efficiency Heating & Cooling
You want your home to be comfortable year round, and now comfort and cost can be balanced with the selection of an energy-efficient heating and cooling system for your home.
Selecting the right system, and size of system, for your home has never been more important. According to the U.S. Environmental Protection Agency, heating and cooling account for up to 56 percent of energy used in a typical U.S. home, making it the largest energy expense for most homes.
Fortunately, now there are a wide variety of energy-efficient systems available to heat and cool your home. In addition, many heating and cooling systems have supporting equipment in common, such as thermostats and ducts, which provide opportunities for more energy savings. Finding the most energy-efficient system is easy – just look for the ENERGY STAR®. An ENERGY STAR-certified central air conditioner is 15 percent more efficient than a standard system. Those savings can add up.
How We Can Help
We help make it affordable to upgrade your heating and cooling system with rebates of $250 - or even $500 - provided by the Connecticut Energy Efficiency Fund. Rebates apply to qualifying ENERGY STAR central air conditioning or heat pump systems.
Energy-efficient heating and cooling equipment will save you energy and money.
Differentiating High Efficiency HVAC Systems
There are a few kinds of HVAC systems you could have installed in your home which are dependent on where you live, square footage, construction type and cost. Listed below are the two types available for the rebate.
A split HVAC system is comprised of multiple sections, an indoor coil section in the ductwork and an outdoor coil section (compressor/condenser) installed on the outside of the home. Inside the home (attic, basement, closet) there may be a combined fan and air conditioning coil in one box or separate coil and fan sections which can house a gas or oil heating furnace. Note that the installed system must be a matched assembly to qualify for rebate (the two or three components must be matched; more information can be found on the AHRI Directory). Most often, all sections would require replacement to ensure the best efficiency.

A package system contains all components in one box (compressor, condenser, fan) and is typically found installed outside the home, in some cases on the roof and ducted into the home.